Inflatable rapid deployment tent for disaster relief & emergency cases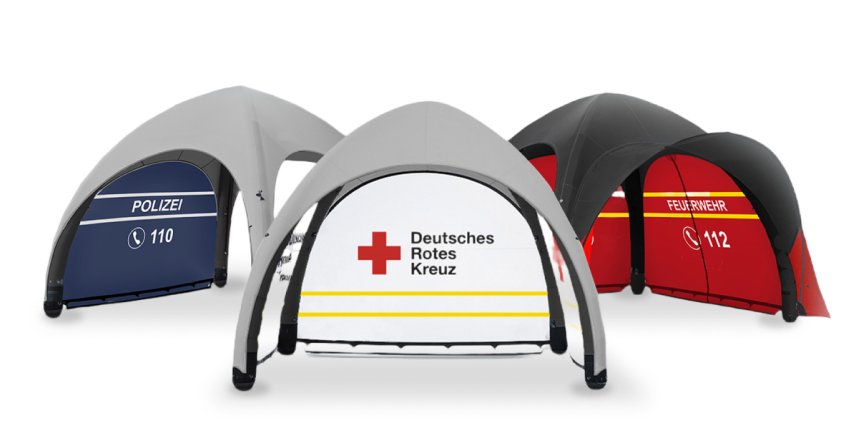 Pneumatic tents for humanitarian missions
Our pneumatic rapid deployment tents have been developed especially for fast use in difficult conditions. They fulfill all requirements of modern rescue equipment.
Humanity Tent Set "Emergency"
Our GYBE® emergency deployment tent consists entirely of specially developed material whose fabric structure made of synthetic fibers is certified according to fire protection class 1 (B1). The materials used are water-repellent (according to ISO 4920, grade 5).
The pneumatic tent is delivered with a transport backpack, weights and four tent walls and is ready for use.
| | TRO | EMERGENCY | FIRE BRIGADE |
| --- | --- | --- | --- |
| Roof | Navy 2767 C | Grey 422 C | Black |
| INFLATABLE | Black | Black | Black |
| SIDEPANEL/FUSION | Navy 2767 C | White | Red 200 C |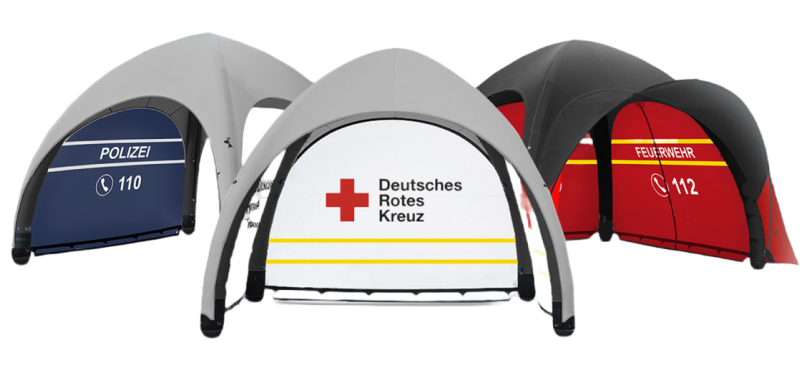 By default, the emergency set is equipped with an inlet valve for filling with an electric pump and with an inlet valve for filling with a compressor and compressed air bottles. The emergency variant is available in predefined variants for fire brigades, emergency services and the technical relief organization, among others.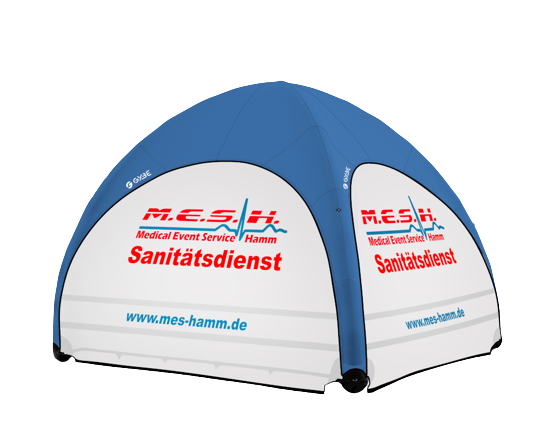 Humanity tent individual
The difference to the emergency deployment tent is the free choice of color for the materials. This applies to the inflatable support structure, tent roof, side panels and yarn (as specified in the data sheet). The side part variants can also be freely selected from the six different versions. The roof and the side parts can be printed with logos, coats of arms and lettering.
Light and compact equipment
GYBE® rapid deployment tents are characterized by a low net weight. The special texture leads to a compact packing size. The inflatable tent can be carried by one person in the transportation bag to the place of action.
contact us
GYBE® rapid deployment tents are modular and extendable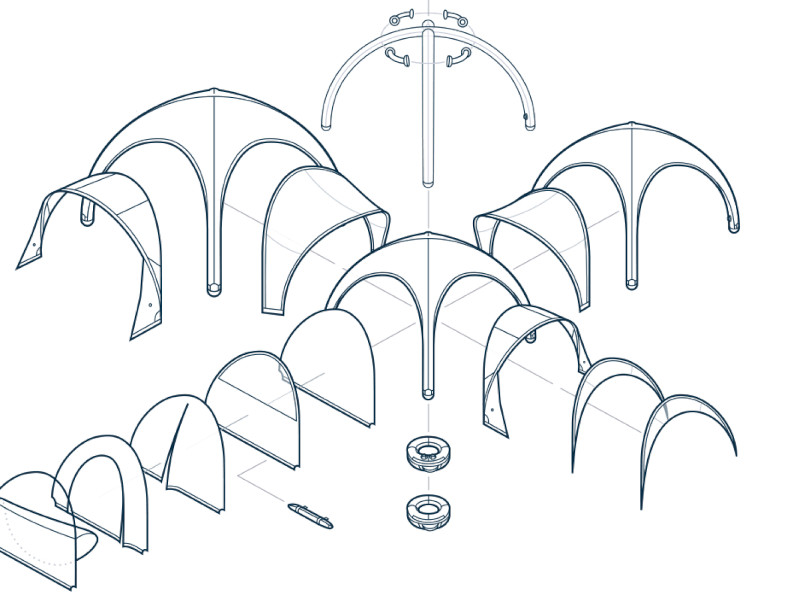 Modular and extendable
The special engineering technique allows to react flexibly and fast to the circumstances on-site. A modularly hospital, an operational tent or a whole city of tents: Tents of various sizes can be connected due to the Fusion Panels. This is great for planning the effective area as well as for the logistics.
Waterbags
(set of 4 units)

Watertubes
(to pin down the side panels)

Side Panel 1
continous

Side Panel 2
with PVC window / mesh window

Side Panel 3
with vertical zipper

Side Panel 4
with oval zipper

Side Panel 5
continous PVC material

Side Panel 6
continous mesh material

Side Panel DZ
with two zippers *

Side Panel RZ
for turning over the side panel *

Roof option
Second Zipper SZ with two zippers *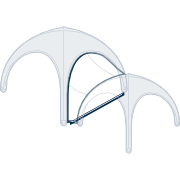 Fusion 10 Feet
Fusion Panel 10ft > 10ft

Fusion 10Feet40
Fusion Panel 10ft > 4 m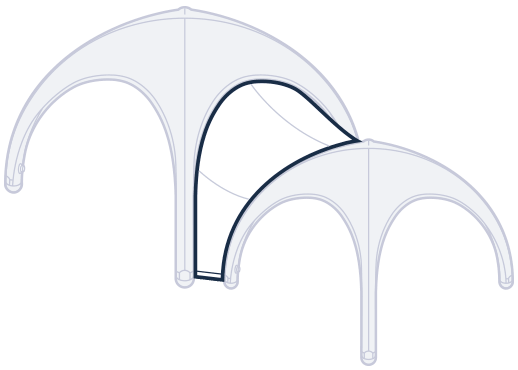 Fusion 4000
Fusion Panel 4 > 4 m

Fusion 4050
Fusion Panel 4 > 5 m

Fusion 5000
Fusion Panel 5 > 5 m

Fusion 5060
Fusion Panel 5 > 6 m

Fusion 6000
Fusion Panel 6 > 6 m

Sunshade

Shade Extender

More Accessoires: Big Bag (bigger transport bag), Double action hand pump, 12 V battery pump & 220 V battery pump
* All side panels can be selected with the additional option "double zipper" (DZ) and/or rotating zipper (RZ)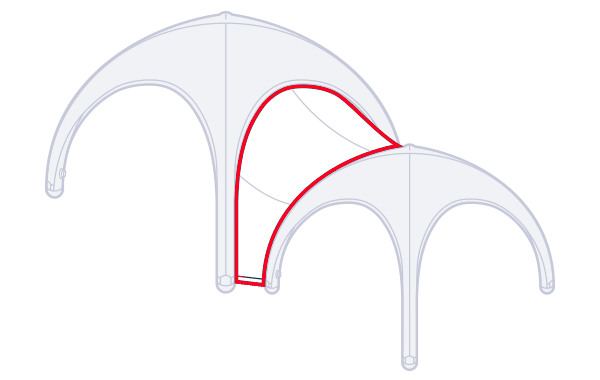 Tent connection
Tents of various sizes can be connected to cover a larger area and to create an impressive scenery of dome tents.
The removable roof offers highest flexibility and enables you to easily take off the roof part for exchange with another roof.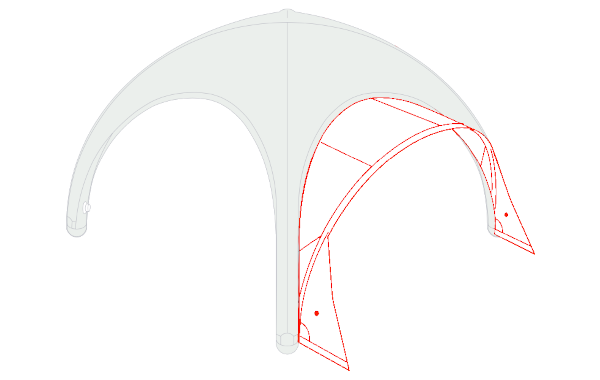 Sun Shade
The GYBE® Sun Shade and the roof extension (Shade Extender) extends the shaded area and increases the printable space of your tent at the same time.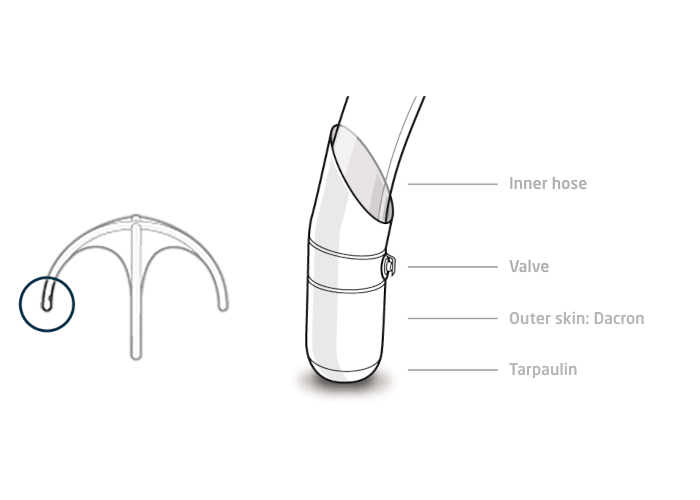 Setup of the supporting structure
The inflatable supporting structure of the tents consists of a resilient Dacron-shell. We use an elastic PU-foil for the hermetic interior hose.

The applied materials have been aligned on resistance, demands and operational speed.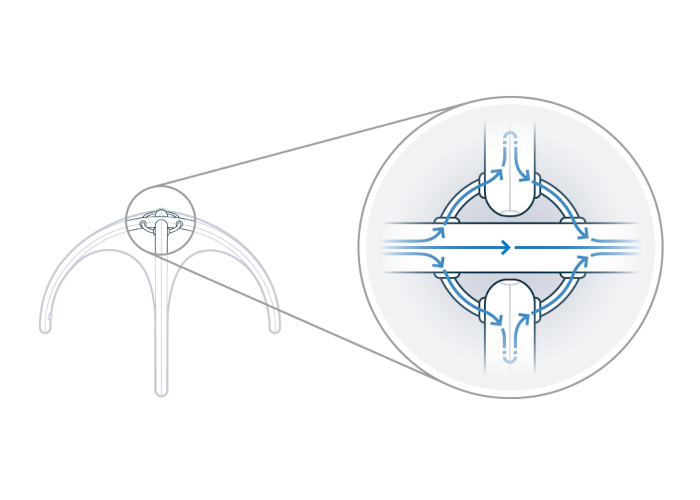 The One-Pump-System
Because of the integrated One-Pump-System, the tent can be inflated by using external compressed air supplies (compressed air bottles, compressors). The air is split up by a central induction valve into three air chambers by using hoses. Unlike other inflatable tents, the GYBE® rescue tent does not need a permanent fan.
Scope of delivery & technical details
Dimensions
| | 4000 | 5000 |
| --- | --- | --- |
| Length | 4,0 m | 5,0 m |
| Width | 4,0 m | 5,0 m |
| Height | 3,0 m | 4,2 m |
| Floor area | 16,0 m² | 25,0 m² |
| Height of doorway | 2,2 m | 2,5 m |
| Weight | 30 kg | 42 kg |
Set up times
| | 4000 | 5000 |
| --- | --- | --- |
| 220 V battery pump | 5 min | 9 min |
| Compressed air | 4 min | 6 min |
| Fire protection classification | B1 | B1 |
| Waterproof | 2.000 mm | 2.000 mm |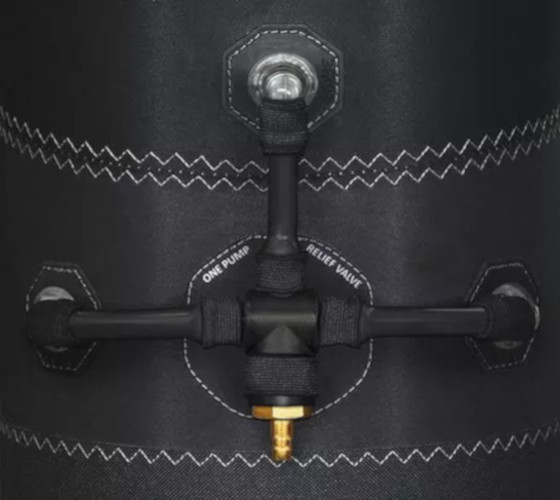 Immediately ready for use
Our pneumatic shelters create a protective area fast, for casualties, as an accommodation for the operation control, or for the placement of auxiliaries. We created a special compressed air system, which allows to set up the tent by only one person in less than 4 minutes.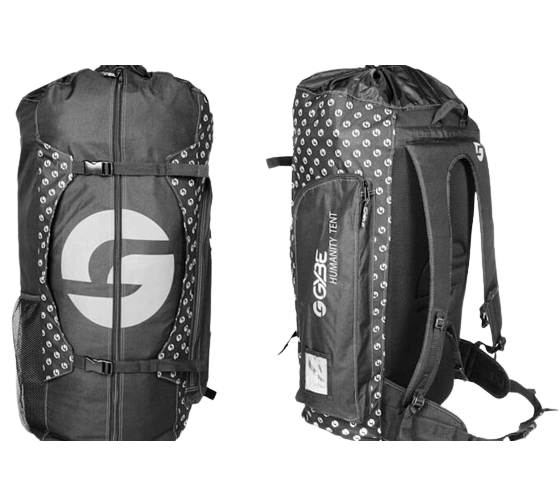 Scope of delivery
The standard scope of delivery includes the tent in a transport backpack with 2 closed side panels and 2 side panels with vertical zips, a set of sandbags or a set of water bags for stabilization, as well as guy ropes and a repair kit.

FAQ Inflatable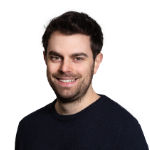 Daniel Link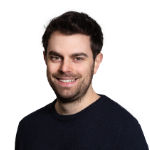 Select a question ...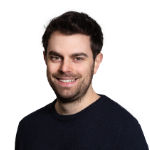 Can the tent also be filled with compressed air from the breathing air bottle?
Yes, the GYBE Humanity Tent is equipped with two inflation valves: one for traditional electric pumps and the other one for compressed air systems. Please note that you need a pressure regulator for setup with compressed air.
What sizes are available?
The GYBE Humanity Tent comes in four sizes: 10 x 10 ft, 4 x 4 m, 5 x 5 m und 6 x 6 m (floor spaces)
Can I close the tent completely?
Sure, you can. There are zippers on all four sides where you can pull in the sidepanels which are automatically included in the tents scope of delivery.
Can I connect several tents together?
Yes, we offer fusion panels so tents of various sizes can be connected to cover a larger area. Note that you can connected tents with have the same or next bigger/smaller size.
Does the scope of delivery include weights?
Yes, each GYBE TENT comes with four sand bags (not filled).
How many people do I need to set up the tent?
Only one thanks to its easy handling!
How long does it take to set up the tent?
Only 1-3 minutes depending on the size of the tent.
What is the packing size of the tent and can it be carried by one person?
We deliver our GYBE Humanity Tents in a backpack (75 x 50 x 45 cm) that can be carried by one person.
Do I need continual inflation for the tent?
No, the inner tube of the tent is welded three times and therefore completely airtight. You only have to fill it one time.
How weatherproofed is the tent?
Due to its construction and materials, our tent is extremely stable even at strong winds up to 8 bft as long as it is set up correctly, weighted and tightened. And it is made of fabrics with high water resistance and sealed seams (water column proof for 4000 mm).